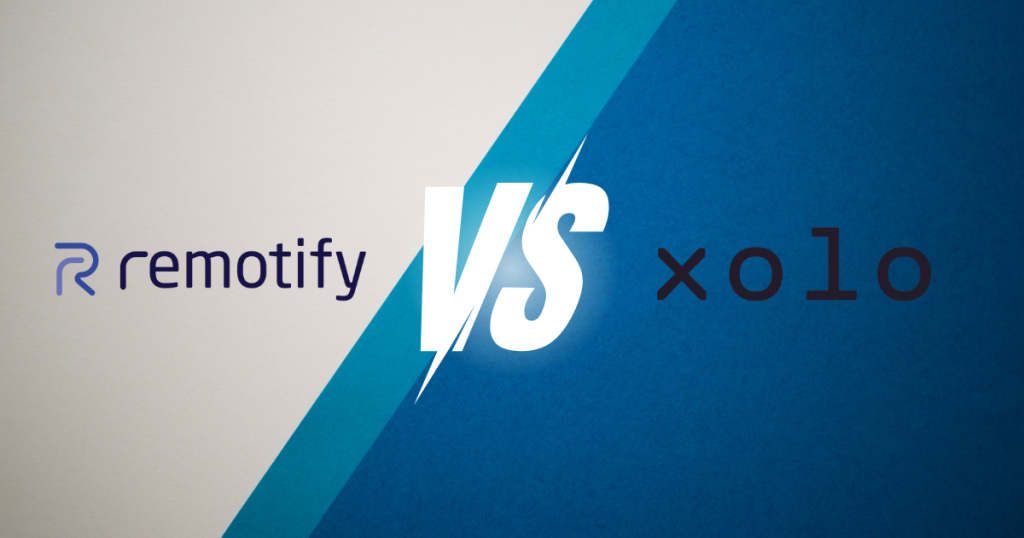 Freelancers and small business owners often juggle multiple responsibilities, from client work to managing finances. Invoicing, tax compliance, and financial organization are essential aspects of this juggling act. Fortunately, there are specialized platforms like Xolo and Remotify designed to simplify these processes. In this article, we'll dive deeper into the comparison between Xolo and Remotify, helping you choose the ideal solution for your freelancing or small business needs.
Both Remotify and Xolo are innovative platforms that provide cost-effective solutions for creating invoices and receiving payments from clients, with Remotify being a particularly cost-effective option
Xolo vs Remoitfy: Side by side comparison
Why Remotify is the best alternative to Xolo?
 
Xolo
Remotify
USP
Virtual company for freelancers 
Create invoices without registering a company
Eligibility
186 countries 
100+ countries
Who is it best for? 
Location-independent freelance service providers looking for a convenient, cost-effective and compliant global invoicing app with integrated banking. 
Remotify is best suited for freelancers and small businesses seeking streamlined invoicing and payment tracking solutions.
Setup time & ease 
1 Business Day 
To start using Xolo Go, you'll only need a valid email address and a copy of your ID.
Once you're done with the account setup, you can start invoicing clients immediately. 
10 minutes
To start using Remotify, you can sign up for an account on our website, choose a pricing plan that suits your needs, and begin customizing your invoicing workflows to get started with efficient billing and payment tracking.
Customizable invoices

Invoice count
Unlimited
Unlimited
Recurring invoices

Program repeat invoices to specific clients to be auto-dispatched every week/month.
 
Remotify provides the functionality to set up and automate recurring invoices for your clients, making it easier to manage regular billing cycles and ensuring timely payments.
Automated VAT calculations
Supported payment methods
Bank transfers
Debit and credit cards
PayPal
SWIFT
SEPA Bank Transfer
Apple Pay
Credit cards (EUR)
Number of supported Currencies
Seven 
EUR, USD, CAD, CHF, GBP, PLN, and SEK.
Pay IN : USD, EUR, GBP, TRY
Pay Out : USD, EUR, GBP,TRY  +30 Currencies
Transaction fees
Flat rate of 5.9% per paid invoice.
Extra 1.9% charge for card payment processing 
Remotify fees start from 2.5% of the total amount from the billing party. The commission rate varies based on the transaction volume.
Integrated business banking

Receive a business bank account number (IBAN) to receive client payments, as well as tools to process card payments. 

You'll need to provide your IBAN number to receive bank transfers from clients. 
Payout time to bank account
1 business day 
Generally, it takes one business day, but this depends on your bank account and currency.
Invoice reminders

Auto-send payment reminders on every overdue invoice. 

Remotify typically allows users to set due dates for their invoices. The system then automatically sends reminders to your clients as the due date approaches or becomes overdue.
Xolo vs. Remotify
Remotify emerges as a strong alternative to Xolo, offering distinct advantages that cater to the unique needs of freelancers and small businesses. Here's why Remotify stands out as an excellent choice:
Streamlined Invoicing Focus: Remotify excels in streamlining the invoicing process. Its customizable workflows and specialized invoicing tools are designed with freelancers and small businesses in mind. This narrow focus results in an intuitive, user-friendly platform that simplifies billing and payment tracking.
Customization:

Remotify's strength lies in its ability to adapt to your specific needs. It offers customizable invoice templates and automated invoicing, allowing you to fine-tune your invoicing process to match your unique services and client relationships. This level of flexibility empowers users to create invoices that align precisely with their brand and business requirements.

Cost-Effective Solution

: Remotify often provides a more budget-friendly option, making it ideal for freelancers and small businesses conscious of their expenses. While Xolo offers a broader suite of services, Remotify's specialized focus on invoicing can lead to cost savings without sacrificing essential invoicing features.

Targeted Features:

Remotify's feature set aligns perfectly with the needs of service-based businesses and professionals. It places a strong emphasis on recurring billing, payment tracking, and customizable workflows, making it the go-to choice for those who prioritize these aspects of financial management

Ease of Use

: Remotify's specialized focus allows for a more streamlined and user-friendly interface. Users can quickly grasp the platform's functionality, making it an excellent choice for individuals who want to get started with minimal learning curve.
While Xolo offers a comprehensive suite of business management services, including company setup and tax management, Remotify's laser focus on invoicing and payment tracking makes it an outstanding alternative for freelancers and small businesses seeking a cost-effective, specialized solution that excels in these crucial areas.
Final Thoughts
In conclusion, Xolo and Remotify are both powerful tools tailored to the unique needs of freelancers and small business owners. The right choice depends on your specific business goals, financial complexity, budget, and personal preferences.
For a deeper dive into each platform's features and to make an informed decision, we recommend visiting their respective websites:
It's important to highlight that Remotify stands out as a cost-effective solution, making it an ideal choice for freelancers and small businesses keen on managing expenses. While Xolo offers a broader suite of services, Remotify's specialized focus on invoicing not only streamlines your financial operations but also leads to significant cost savings without sacrificing essential invoicing features.
So, whether you prioritize comprehensive business management or cost-effective, specialized invoicing, both platforms are designed to simplify your entrepreneurial journey, allowing you to focus on what you do best—your work.Pay